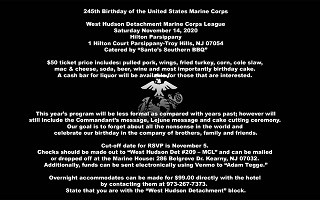 West Hudson 245th Birthday Celebration
Catered by "Sante's Southern BBQ"
$50 ticket price includes: pulled port, wings, fried turkey, corn, cole slaw, mac & cheese, soda, beer, wine, and most importantly birthday cake. A cash bar for liquor will be available for those that are interested.
This year's program will be less formal as compared with years past; however will still include the Commandant's message, Lejune message and cake cutting ceremony. Our goal is to forget about all the nonsense in the world and celebrate our birthday in the company of brothers; family and friends.
Cut-off date for RSVP is November 5. Checks should be made out to "West Hudson Det #209 – MCL" and can be mailed or dropped off at the Marine House: 286 Belgrove Dr. Kearny, NJ 07032. Additonally, funds can be sent electronically using Venmo to "Adam Tegge."
Overnight accommodations can be made for $99 directly with the hotel by contacting them at 973-267-7373. State that you are with the "West Hudson Detachment" block.