Oct
4
Sun
2020
New Jersey Department Staff Meeting

@ New Jersey Army National Guard (Sea Girt)
Oct 4 @ 11:00 am – 1:00 pm
Department Meeting/Mini Convention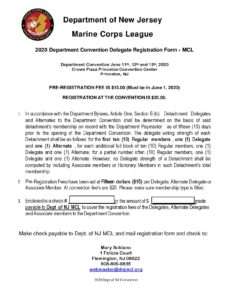 2020 Mini Convention Delegate Registration Form
$5 Pre-Registration Fee/$10 at the Door
4 October 2020, 0830-1630
National Guard Training Center
100 Camp Dr, Sea Girt, NJ 08750
We will be holding our next Department Meeting on 4 October 2020 at Sea Girt starting at 0830 and going until approximately 1630. For all intents and purposes this will be our Convention, so I ask all Detachments and Districts to send Representatives. The Department will be providing lunch that day. We will have our normal meeting to include Awards and Recognition in the AM and after lunch will be holding Nominations, Elections and Installation of Department Officers. This will be in accordance with the 2020 Emergency Plan for Elections and Installations for Departments as approved by the National Board of Trustees on 1 April 2020.
NOTICE TO ALL: To enter the property you will need to have in your possession a valid ID such as a Veterans ID card, NJ Driver's License with Veterans noted on the face. They will also have a full roster of our membership if needed at the front gate. Remember when entering … Let them know you are with the MCL attending a meeting at Building #42.
Oct
17
Sat
2020
New Jersey Pack Growl

@ Freehold Elks
Oct 17 @ 8:30 am – 11:30 am
Bring Your Bones!
We will be holding our next NJ Pack Growl on 17 October 2020 starting at 0830 at the Freehold Elks in Freehold NJ. This will be an extended Growl so please bring your gear. We will be holding Initiations of all Pups moving up to Devil Dogs and all Devil Dogs that received Special Dispensation to be initiated to the degree of Pedigree Devil Dogs. I will be barking with our Mad Dog to go over the details. All newly Advanced Devil Dogs will have a date of 11 July 2020 as the date of Advancement so they are eligible to move up to PDD if they so choose to in Springfield, IL in 2021