2021 Department of New Jersey Mini Convention
July 18, 2021
Day change from Saturday the 17th to Sunday the 18th
Sea Girt Military Base
Doors will open so to speak at 0830 and the meeting will begin at 0900.
05/24/2021
Good Evening Marines,
The date has changed so please note. It is now Sunday July 18,2021. There was a conflict with the National Guard last minute and since it is their base they won.
The Uniform Of the Day for this event is MCL cover and for the staff I would like Red Polo shirts and shorts. Yes I said shorts if you would like. This is July in NJ and I am sure it is going to be warm out. The Department is getting lunch of some sort for purchase along with having water and soda on ice. The start time is 0900 with the Doors opening so to speak at 0800. There will ****NOT**** be a ship store that day as the event is outside. This agenda is a guide for us that day and there will be a break at some point in the morning session. I am hoping to get through everything in the AM so the afternoon can be Nominations, Elections and Installation of Officers.
Semper Fi,
Joseph "Woody" DeAngelo
Commandant, Department of New Jersey
Marine Corps League
2021 Department Convention Individual Forms
Below are links to all the individual forms for the 2021 Department of New Jersey Convention.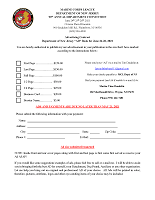 Download for print, form is fillable.