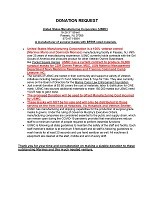 Donation Request for the United States Manufacturing Corporation
DONATION REQUEST
United States Manufacturing Corporation (USMC)
18-26 3rd Street
Passaic, NJ 07055
973-471-6991
A manufacturer of surgical masks with BFE95 rated materials.
United States Manufacturing Corporation is a 100% veteran owned (Marines Mario and Dominick Monaco) manufacturing facility in Passaic, NJ. With over 25 years of manufacturing experience, USMC currently holds contracts with the Girl Scouts of America and produces product for other Veteran Owned Businesses like Pocket Square Heroes. USMC has a current contract to produce 16,000 surgical masks for CDR Darren Pierce, MSC, USN Material Management Department Navy Medicine Readiness and Training Command Camp Lejeune, NC.
The owners of USMC are rooted in their community and support a variety of Veteran initiatives including Semper Fi Fund, Marines Care & Toys for Tots. They also currently serve on the Board of Directors for the Marine Corps Law Enforcement Foundation.
Just a small donation of $3.80 covers the cost of materials, labor & distribution for ONE mask. USMC has sourced additional materials to make 150,000 masks but USMC need YOUR help to get it done.
The proposed Donation will be used to offset Manufacturing Cost incurred by USMC.
These masks will NOT be for sale and will only be distributed to those serving on the front lines at Hospitals, VA Hospitals and Veteran Shelter.
USMC has manufacturing and shipping capabilities for the production of surgical grade masks & gowns. Under the ruling of Governor Murphy's Executive Orders, manufacturing companies are considered essential to the public and supply chain, which can remain open during the COVID-19 pandemic provided that manufacturers reduce staff to a minimum number of people required to perform essential functions.
USMC is following all state guidelines to maintain the safety of the staff and facility. Each staff member's station is at minimum 6 feet apart and all staff is following guidelines to wash hands for at least 20 seconds and use hand sanitizer as well. All machines & equipment are cleaned at the start, middle and end of every shift.
Thank you for your time and consideration on making a sizable donation to these outstanding Marines and this much needed venture.