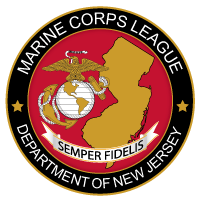 New Meeting and School Location
Marines pass this on to all Department of New Jersey MCL Members:
We have secured a new meeting location for all of our upcoming Department Meetings.
Effective immediately we have moved our meeting location from the USMC Reserve Center in Red Bank to the modern Training Facility at the following location:
New Jersey Army National Guard (Sea Girt)
254th Regional Training Institute (Building #42)
Sea Girt Avenue
Sea Girt, NJ 08750
For those that have attended Leadership School at Sea Girt this the same property, this location is about 200 yards onto the property (parking on the right under the covered parking area) and the entrance is the walkway in front of you. Upon entering the building turn left through the double doors and the Auditorium entrance will be on your left.
We have negotiated with the NJ Army National Guard the use of the building for all of our future meeting for the following upcoming meetings:
2019-2020
January 20, 2019
March 17, 2019
September 15, 2019
November 17, 2019
January 19, 2020
March 15, 2020
For our Department Meeting we have three rooms reserved as follows:
Main Auditorium for our Growls followed by the Dept. regular meeting. This is a large theatre style room with each seat having a fold out desk area.
Smaller conference room for the MCL Aux to meet 15-20 members
Small conference room for a separate Staff meeting
For our Quartermasters we have three tables set up in the rear for display of merchandise.
Leadership School: March 30, 2019 Special Audio Visual Meeting room with an Instructors Room
NOTICE TO ALL: To enter the property you will need to have in your possession a valid ID such as a Veterans ID card, NJ Driver's License with Veterans noted on the face. They will also have a full roster of our membership if needed at the front gate. Remember when entering … Let them know you are with the MCL attending a meeting at Building #42.
Semper Fi,
Douglas Rattazzi
Commandant
Dept. of New Jersey Marine Corps League